Detailed information
Product Description
The traditional series greenhouse, a wider "POP" greenhouse with double slide doors for easy access even with large loads and items.It also uses 'Slide & Lock' Assembly System, with 4 or 6mm weather resistant polycarbonate panels and heavy duty anodized or durable powder coated aluminum frame. And numerous add-on accessories such as greenhouse shelvings and automatic roof vent openers are available so you can customize your greenhouse so it works for you. An optional greenhouse base as well as a louver window are also available options to further personalize your greenhouse.
Featrues

1.4mm or 6mm polycarbonate sheet can be chosen; two different sizes for each model, green powder coated or anodized color are available.
2. Full Side Wall Bracing, Ridge & Eave Bracing.
3. Increase stability with an optional available base. Very useful in windy areas.
4. Easy to assemble without any special tools.
5. Roof vents and doors provide more than adequate ventilation.
6. Available Options include Automatic Roof Vent Openers - Shelves and Shading Nets.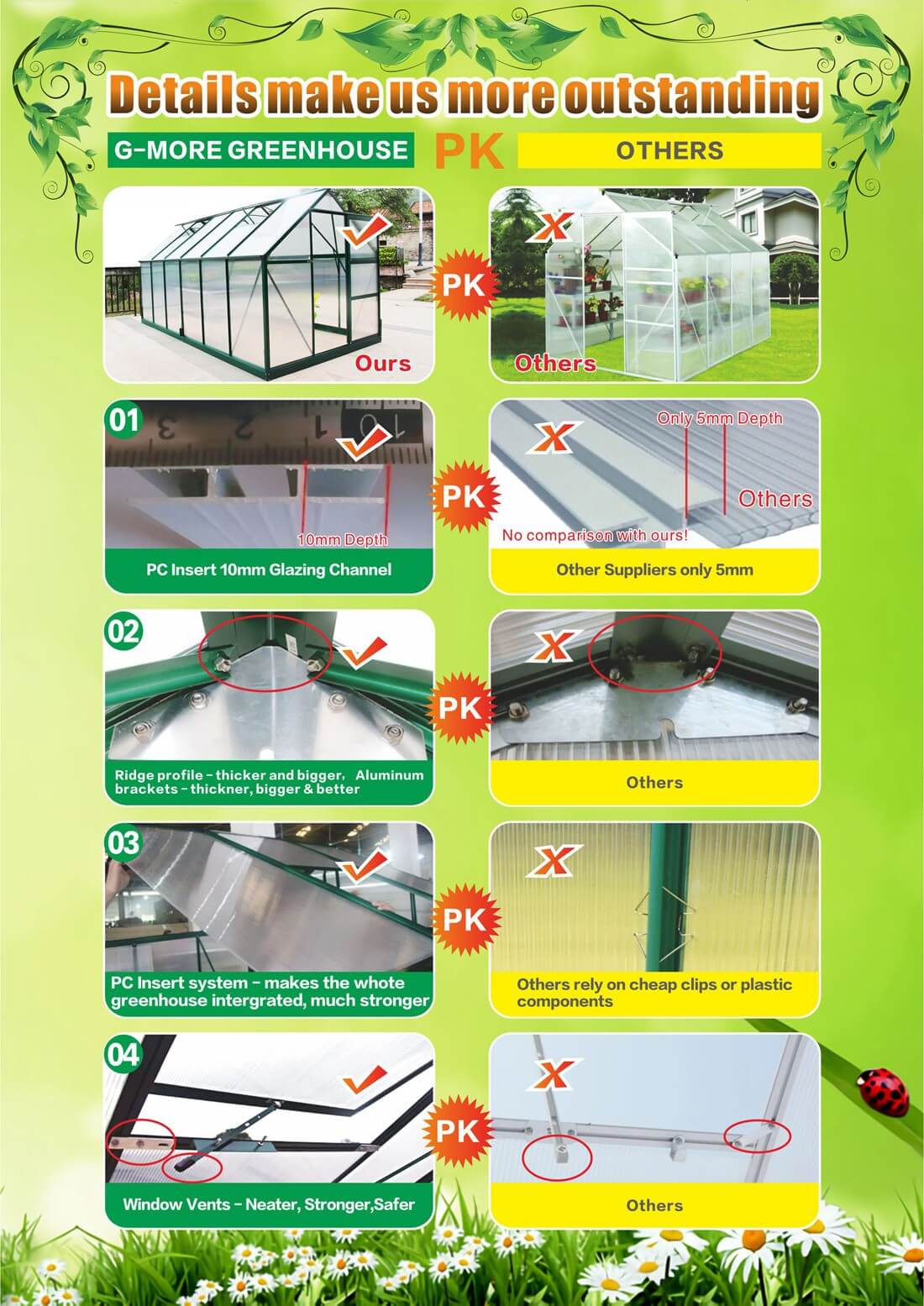 Conclusions:

10MM depth to slide in PC panel.
- Double-times deeper than others;
- PC panels won't be easily blown out in windy days, much safer.
- More used materials inside, heavier and better quality;
Comparison:
PK 1
Ours: 10MM Glazing Channel, double deeper than others;
- PC panels won't be easily blown out in windy days, much safer.
- More aluminum makes the greenhouse stronger and better quality;
Others: 5MM Glazing Channel - fragile & weak.
PK 2
Ours: 2mm thick aluminum sheet with precise pre-drilled holes to connect the whole structure;
Others: Small and thin bracket, poor aluminum sheet.
PK 3
Ours: PC insert system. Our entire structure comes with a channel depth of 10mm and we have incorporated a
special 'barb/lock' within the profile which enables you to slide the panel into the channel and lock/secure into
place! With this aluminum profile, we can insure that our panels will hold firmly in place without the use of
silicone or having to rely on cheap clips or plastic components.
Others: Rely on cheap and weak Clips, results in the whole greenhouse very weak, which is easily blown out in
the windy season.
PK 4
Ours: Large and solid window arm to ensure the vents are steady and strong, and the plastic cap to prevent any
injury by sharp edges.
Others: Thin and weak arms, and lack of safety protection.
PK 5
Ours: 1.2mm thick and 460mm long of full roof & side bracings give much more strength to the whole stucture -
Made to Last!
Others: No bracings or very thin or short bracings, help them reduce the price, but don't help the increase the
strength of the greenhouse.
What's more: